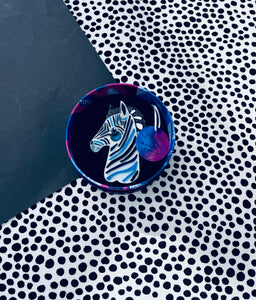 Brooch - The Zealous Zebra Erstwilder x Pete Cromer
Regular price $44.95 $49.95 Sale
BROOCH DETAILS:
Brooches are a type of accessory that have been around for thousands of years, they never really go out of fashion they just differ from one year to the next. So based on that, meet our fantastic collection by Erstwilder x Pete Cromer. A stunning Australian designed collection of Australian animal brooches that are truly beautiful to the eye and sure to make any outfit stand out.
Designs come packaged in Erstwilder gift boxes.
COMPOSED OF:
Each brooch is made from laser cut and layered resin, hand assembled and hand painted. And due to reach piece being glued, assembled and painted by hand there can be finger print marks and very slight variations and blemishes. Due to the hand mixed nature of the resins in our designs it is also common and normal to find tiny flecks or bubbles in the resin layers - these differences simply serve to make each brooch as unique as the person wearing it! Meaning, every brooch is different, so the brooch you receive may be slightly different to the one you see photographed here.
CARE:
Resin is akin to ceramic and glass and therefore may be damaged if dropped or knocked. Due to the use of high quality silver-plating in our brooch clasps, tarnishing and oxidisation can occur. As with all silver products, you can simply restore it using a silver cloth. Keep your Erstwilder companion neatly tucked away in its box when not being worn. Avoid contact with perfumes, lotions, water and excessive sunlight.
SIZING:
62mm high x 56mm wide
COLOURS:
The colours shown may vary across different computer/mobile screens, but we have tried our best to display them as close as possible. 
DELIVERY AND DISPATCH:
Please allow up to 1 week turnaround for item to be shipped.
PRINT PLACEMENT:
Each piece is hand assembled, hand painted and released in limited quantities. All designs are made from layered resin. As designs are produced from original illustrations and are hand assembled, hand painted and hand finished, there may be minor differences from piece to piece, making each as unique as those who wear them.
PLEASE NOTE - We are sorry but we cannot offer an exchange/refund for incorrect choice or if you change your mind once brooch is purchased.