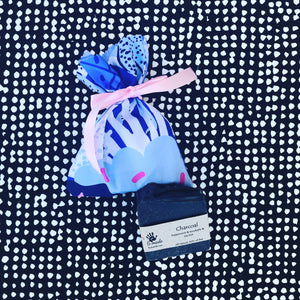 Charcoal Pepppermint & Eucalypts Handmade Soap
Charcoal Pepppermint & Eucalypts Handmade Soap
 140 grams 
Comes in a reusable organic cotton poplin gift bag tied with ribbon (fabric from our Wild Things collection )
All of our soaps are naturally coloured with clay, herbs and spices, and are scented naturally with essential oils. 
Ingredients: Olive oil, coconut oil, shea butter, rice bran oil, castor oil, sunflower oil, lye, distilled water, salt.
We are proudly free of synthetic colours, fragrances, preservatives, detergents and palm oil.