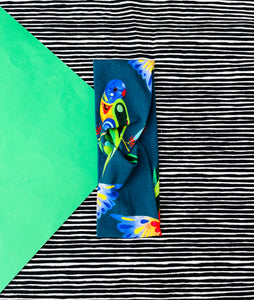 Flocking Awesome Green Wide Twist Headband
Regular price $29.00 Sale
GARMENT DETAILS:
The wide twist headband is wider than our charity twist headbands, and made of our beautiful stretchy jersey material. Unlike our normal twist headbands which are made of a non-stretchy 100% cotton with an elastic at the base. These wide twist headbands are super comfortable and add a fun pop of colour for any outfit!
This wide twist headband features the white background.
And best of all these have FREE WORLDWIDE SHIPPING!
FABRIC:
100% cotton jersey.
SIZING:
Fits most adult head sizes and some kids as they are very stretchy. 
CARE:
Generally we suggest hand washing all of our garments in cold water without harsh chemicals and hanging or laying to dry out of direct sunlight. For more information please go to our Product Care page.
COLOURS:
The colours shown may vary across different computer/mobile screens, but we have tried our best to display them as close as possible.
PATTERN PLACEMENT:
Because this product is handmade here in Australia, exact placement of the pattern is unique to each individual item, meaning you have a special piece just for you! Each wide twist headband has a slightly different print placement, so the headband you get may very well be different to what you see here.
DELIVERY AND DISPATCH:
Please allow 1 week for your headband to be made and shipped.
MADE:
Designed in Australia, Made in Australia. 
PLEASE NOTE - We are sorry but we cannot offer an exchange/refund for incorrect choice or if you change your mind once wide twist headband has been purchased