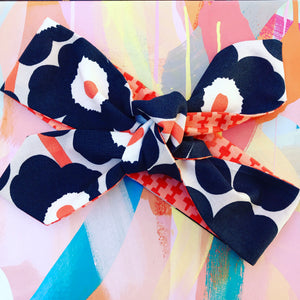 Marimekko Orange you Glad to see me Floral Hair Tie
Regular price $29.00 Sale
Beautiful Woman's Hair Tie featuring a stunning Marimekko fabric.
Can be worn many ways, check out our Instagram page for ways to wear it.
Hair Tie length approximately 92cm-95cm.
Please allow up to 1 week turnaround for item to be made and shipped 
PLEASE NOTE - No exchanges for hair accessories or jewellery sorry.
Because all of our products are handmade here in Australia, exact placement of the pattern is unique to each individual item, meaning you have a special piece just for you! The colours shown may vary across different computer/mobile screens, but we have tried our best to display them as close as possible.
(This is not a licensed Marimekko product. We hand make all of our items here in Australia from licensed Marimekko fabric. We are not affiliated with or sponsored by Marimekko in any way)